January 3, 2019
One of my most exciting investments late 2018 has been Market Arbitrage Coin (MARC), a platform being built for fully automated crypto arbitraging. MARC is not just a bot that will execute arbitraging opportunities on the top crypto exchanges , but also a masternode coin that is rewarding early investors with a massive ROI, currently at ~1000% per year.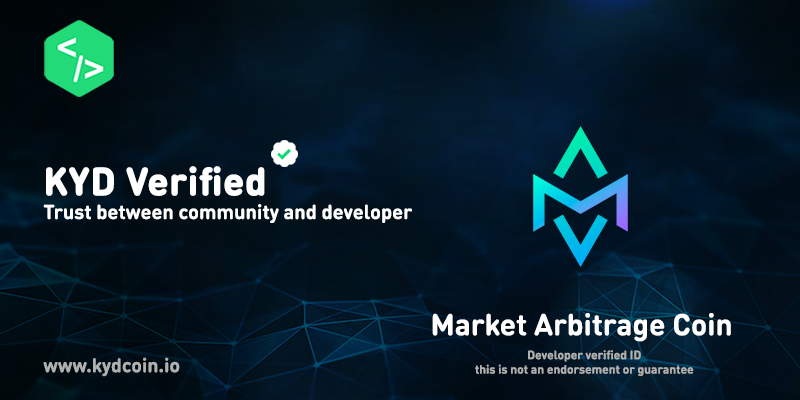 MARC KYD
Of course, this percentage is just a snapshot of the coin right now, and we will see massive volatility with coin emission being this high. In the end, the MARC devs have to create demand for the coin, which is the platforms utility token, by building a superior trading bot with an easy to use UX/UI for everyday crypto customers. I expect the ROI to fall significantly within the next few weeks and months, with more coins being available on the exchanges, and then the MARC masternnode rewards competing in ROI with its own arbitraging profits.
The developments I saw the last few weeks have been very promising. While an exploit in the chain was used by hackers to re-route blockrewards to their wallet, the exploit was fixed once noticed by the team. A complete hard fork of the chain and swap of all coins in users' wallets and on the exchange was performed more swiftly than I have seen in any other project. Shortly after, MARC then successfully listed on CryptoBridge and went on a sprint to get listed on Masternodes.pro and KYD-certified. Potentially huge could be the listing on UK-based exchange CryptoFlow, who will offer a near-instant MARC/FIAT pair by the end of January. A FIAT on-ramp is something many teams and users wish for, and MARC seems to get one earlier than many TOP 20 coins.
Now, the best news regarding MARC's Arbitraging solution came just in time for the new year. The dev team behind Denys Westerhold released a staking webwallet that will be utilized in the platform later on, and they went online with live trading insights that show the semantic parsing of the exchanges for arbitrage opportunities and summarizes the funds used to achieve a certain spread%.
MARC is by all means an ambitious crypto project that has yet to deliver a working product. However, up until now the team behind MARC has delivered on their roadmap and seems poised to build the best arbitraging bot for 2019.
---
Previous post
Good News 2018
These 15 charts are exactly what i love Quartz for. They show us how 2018 was the best year in history to be alive. I think it's so important to
Next post
Simple POS Pool Shared Masternodes
In search for an effective way to reinvest Masternode rewards, I came accross Simple POS Pool which has served me